William Carroll Alverson
of Madison County Alabama
William Carroll Alverson was born 1 Feb 1867 in Lynchburg, Lincoln Co., Tn, [age 35 in 1900 census] and died 9 March 1832 in Madison Co., Ala., aged 66. He is buried in the Haden Cemetery at New Hope in Madison Co. He was the son of Archibald Alverson and his third wife Elizabeth. William Carroll married 3 Sept 1884 in Madison Co. Ala to Lucy M. Flippo. Lucy was born in March of 1868 in Alabama [age 32 in 1900 census].
Children of William Carroll & Lucy M. [Flippo] Alverson:
Jessie P. [male] b. Oct 1886, d. 1944 Mad Co Ala, bur Haden Cem. md. Lilly J. [ ].
Evie b. June 1888 md. 5 July 1903 Robert Reed
Josie b. Apr 1891
Pearl M. b. March 1893
Benjamin F. b. 28 Feb 1894
Callie b. Nov 1895 md 2 Nov 1919 Murphy Allen
Daisy b. Nov 1899 Gurley, Mad Co, Ala., [age 6 mo's in 1900 census]
Ozetta md. [at age 19] 26 Sept 1917 Ira Peeks [age 20, b. Ms.]
Note: See the 1900 census in Hurricane, Madison Co., Al.
Children Jessie P. & Lilly J Alverson: Walter Lonzo b. 22 February 1902 Mad Co Ala, d. 15 Jan 1949 Mad Co Ala, age 46, bur Hayden Cem.
Clarence W. b. c1908 Mad Co Ala, d. c1931 Mad Co Ala, age c23, bur Hayden Cem.
Allen A. b. c1915 Mad Co Ala.
Russell E. b. c1918 Mad Co Ala.
Clarence W. ALVERSON md 23 July 1925 in Mad Co., Ala, Louise Jeraldine DRAKE, dau of Dan C. & Mattie Virginia [HILL] DRAKE, Sr.
Children of Clarence W. & Louise Alverson:
Katherine Virginia b. 3 August 1926 Mad Co Ala, d. 12 May 2001 Meridian, Lauderdale Co., Miss, age 74, bur Sumter Co., Alabama.
Line of descent for William Carroll Alverson
Archibald Alverson, Civil War, the father of William Carroll Alverson, was the son of
Elijah, War of 1812 & Clarissa [Griffin] Alverson,
John, Rev War Soldier, Valley Forge, & Fanny [ ] Alverson
Clarissa [Griffin] Alverson was the dau of
John, Rev War Soldier & Anne Griffin
James & Fanny [Beal] Griffin, both Rev War Soldiers
Fanny [Beal] Griffin was the dau of
Capt. William Beal, Rev War Soldier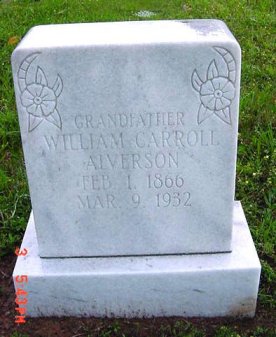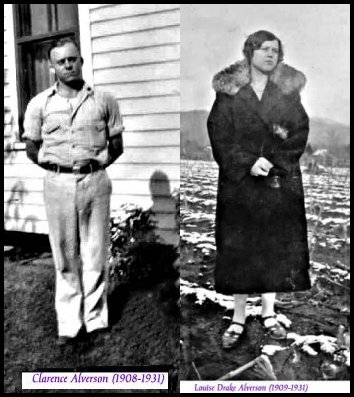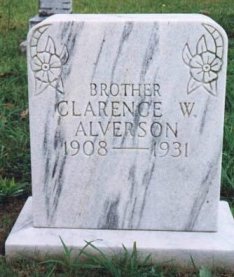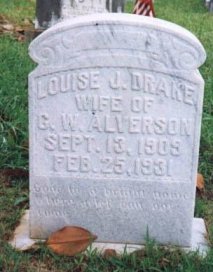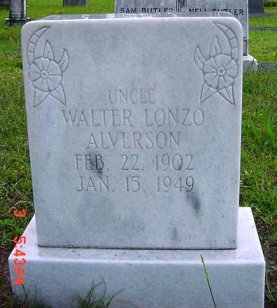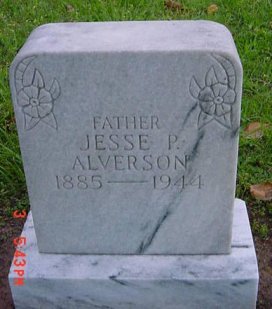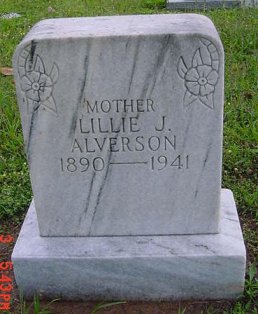 Louise of Dimple's Attic was kind enough to share her pictures with us.
See her web page for more on this family.
Back to Alverson Pictures page
Back to main Alverson page.