Pictures from the line of Frances Alverson Jones,
daughter of Elijah and Clarissa [Griffin] Alverson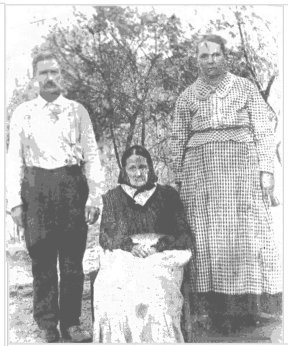 George Washington Alverson, son of Perry Alverson, his wife Elizabeth Jones Harris Alverson, and seated is her mother Frances Ann Alverson, the only daughter of Elijah and Clarissa [Griffin] Alverson.
Barbara Green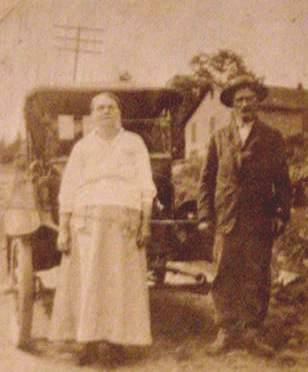 George W. & Elizabeth [Jones] Alverson
Jackie
Elizabeth Jones Alverson was the daughter of William Wesley and Frances Ann [Alverson] Jones. Frances was the daughter of Elijah and Clarissa [Griffin] Alverson.
George Washington Alverson, born March 1868, died Nov 1944, was the son of Perry Harris [or] Alverson, born Nov 11, 1840, married Martha Willingham 3 Feb 1864 St. Clair Co. Ala. Perry is one of the four Harris boys mentioned in Elijah Alverson's bible.
Elizabeth married a Harris first and had three sons, John William Harris born Sept 1877, James (Dave) Davis Harris born July 1883, Foster Shephard Harris born August 8, 1889. All born in AL, around or near Coal City, St. Clair County.
Elizabeth married second George Alverson.
Foster Harris is the grandfather of Barbara & Jackie.
Miss Frances Ann Alverson md William W. Jones 16 Dec 1847 St. Clair Co. Ala.


William Wesley Jones, 1850 St Clair Co Alabama census.
---
Proofs and notes from Susans file:

Probate of Elizabeth Alverson
State of Alabama
St. Clair County
In the matter of the estate of ELIZABETH ALVERSON, deceased. The petition of the undersigned SIDNEY ALVERSON respectfully represents unto your honor that ELIZABETH ALVERSON who was at the time of her death an inhabitant of this county, departed this life at COOKE SPRINGS on or about the 1st day of September 1929, and attested by FRANK B. EMBRY and SARAH E. SMITH. That your petitioner, as he verily believes, is named in said will as EXECUTOR and does now herewith surrender said will to the court, and prays that after proper proceedings and proofs it may be probated and admitted to record as the true last will and testament of said deceased. Your petitioner further represents that there is no widow and that the name, age, residence, and condition of each of the next of kin are as follows, to wit:
George Alverson, the husband, of Cooke Springs, Alabama.
William Harris, a son, of Chattachee, Fla.
James Davis Harris, a son, of Trussville, Alabama, Rfd #1.
Sidney Alverson, a son, of Acmar, Alabama.
Mary Frances Cameron, a daughter, of Trussville, Alabama, RFD #2.
All of whom are over the age of twenty-one years.
Foster Harris, Irene Harris and Elizabeth Harris, grandchildren of Cedertown, Georgia, RFD.

Your Petitioner represents that Frank B. Embry and Sarah E. Smith the said attesting witnesses reside at Pell City, St Clair County, Alabama, and therefore prays that your honor will make and enter an order setting a day for the hearing of the proof for the probation of said will; that notice be given to the next of kin and legatees as required by law. That upon a final hearing that said will will be admitted to probate.
SIDNEY ALVERSON , petitioner.
Sworn to and subscribed before me,
this 3rd of Sept. 1929
C. D. Adkins, Judge of Probate
Note: I have a copy of this will but it did not scan well enough to put online.
Sidney Washington Alverson
Birmingham News
Sidney Washington Alverson, b. [6 Oct 1895?] Ala., d. 28 Aug 1966, aged 70, at home in Ragland, St Clair Co, Ala. Sidney was the son of George Washington and Elizabeth [ ] Harris Alverson. Sidney md. Katie June Ritch, b. 30 June 1894. They are buried in the Oak Ridge Cemetery at Pell City, St Clair Co., Ala.

Dave (James Davis) Harris and his wife Rebecca R (Hattie) Perrin
They were married 15 Oct 1905 Eden, St Clair AL.
Dave is the second son of Elizabeth Jones Harris Alverson.