Simon Alverson
Pictures of his descendants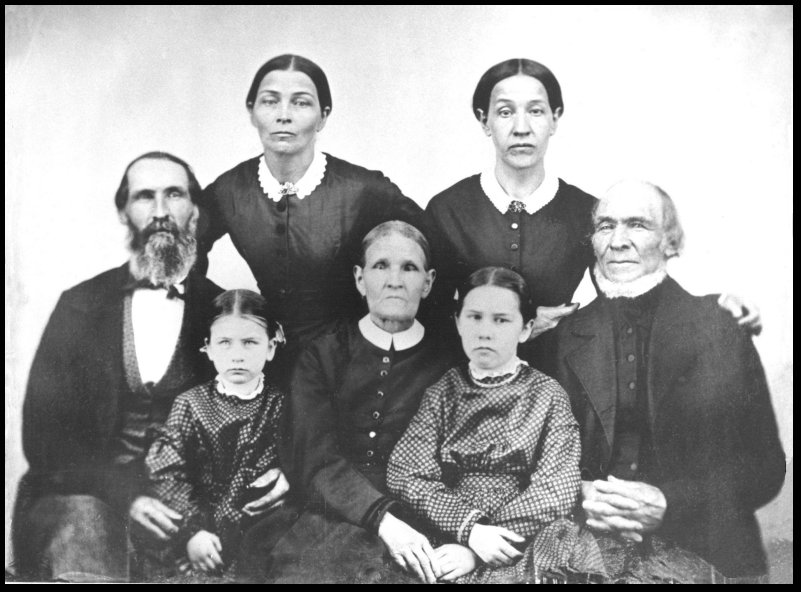 Joseph B. Paine and his family taken in 1870.
Joseph B. is at the left (dark beard) holding his daughter Grace, whom I remember very well.
His mother, Lydia Mansfield is in the center, and his dad, Joseph, is on the right.
Behind J.B. is his wife, Mary Elizabeth Alverson.
To the right of Mary is J.B's sister, Lovina Augusta Paine.
The other young girl is Grace's sister, Alice who married John Cummings.
A picture of Charles, Susan, and Mary when they were younger (They were born 1825, 1827, 1830)
Estimating ages, but it looks to me that Mary is about 25 and Charles 30. That would have been in 1855.
The "Charles Alverson family".
In the 1880 census, Charles was 55, and his wife Elvira was 44, and no child was living with them.
The child could have died, but assuming he was over 18 - and he looks to be about 7 in the picture
- that would date the picture between 1863 and 1869.
Pictures shared by Bob White
More on Simon Alverson and his desc.
Back to pictures
Back